We are currently working towards our 1st Active Flag at Kilruane N.S.,co-ordinated by Ms.Lawlor. The Active School Flag is a Department of Education initiative which recognises schools that strive to achieve a physically active school community. In order to achieve this goal we will be implementing improvements across the P.E. curriculum. The overall goal is to increase physical activity and extra curricular activities in our school and promote a healthy lifestyle. Our school has already added Judo, Yoga and Modern Dance to our Physical Education programme so far this year. Along with our usual activities Gaelic Football, Hurling and Tag Rugby.
    We have also concentrated on Athletics this year. We have taken part in the Tipperary Cross Country Schools Championships and Nenagh Olympic's Annual Athletics event in Nenagh. A combination of after school and in-school training took place for all of the athletic events above.
For more information please visit www.activeschoolflag.ie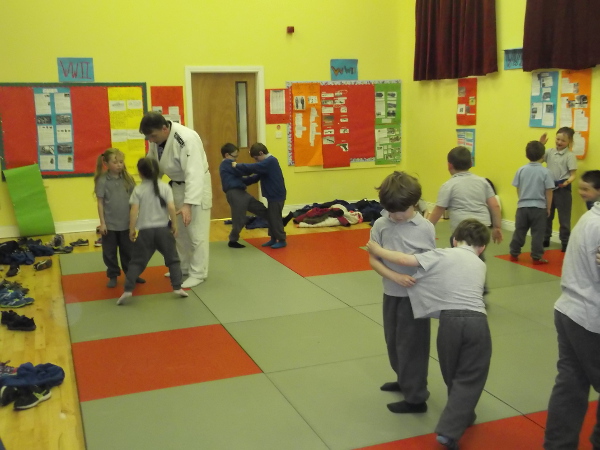 The following children were presented with a special trophy by James, marking their outstanding efforts over the six weeks.
Mrs. O'Meara's Room – Séan Conroy
Ms.Ryan's Room – Hannah Dooley
Ms.Lawlor's Room – Gráinne O'Meara
Mrs Kennedy's Room – Megan Dooley
Ms.Kirby's  Room – Billy Howard    
Judo
Our School Judo Programme, led by James Mulroy (Head Coach, Black Eagle Judo) ran for six weeks. James is both International Judo Coach and an International Olympic Referee.
The course focused on the fundamentals of movement and the importance of physical education and participation for all children.
Judo as a sport is the second most popular sport in the world after soccer and is part of the educational system in a large number of countries around the world. The whole ethos and values of the sport make it a wonderful tool for the development of physical fitness, self esteem, personal confidence and much more.
The Olympic sport of Judo was taught using basic Judo techniques as well as games as a fun way to encourage development of movement and athletic skills at this important stage of a child's physical development. The Judo games are used as a fun way to develop running, jumping, tumbling, agility, balance and coordination skills.
 The children really enjoyed the sessions and made great progress from start to finish, culminating in an awards ceremony on the last day, when each child was awarded a 'White Belt' in Judo. A first for Kilruane NS !
Modern Dance
Local modern dance teacher Claire Nealon taught a variety of dancing to all pupils of Kilruane N.S for six weeks. This included Irish Dancing, Folk Dancing and Creative Dance. The children  explored more complex body movements, exploring an increased range of dynamics in movement through creative practice and performance.
They also performed a range of steps and movements to rhythmic and melodic music showing increased balance, control and co-ordination while moving and stopping.
In addition they developed an understanding and appreciation of dance through observation and discussion of their own dance and dances of others.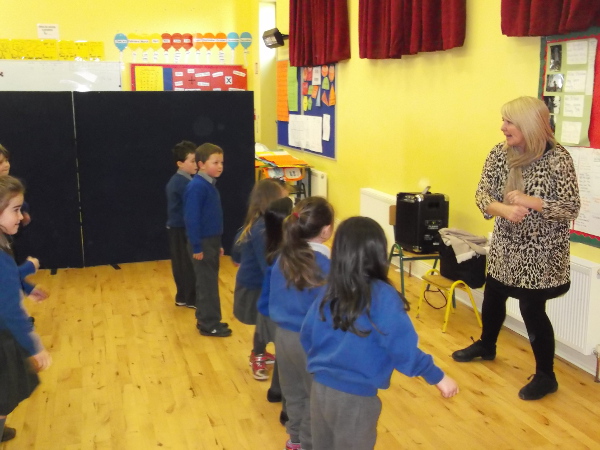 Yoga
 Structured yoga classes can help children with their overall fitness, balance, flexability and concentration. Local Yoga teacher, Siobhán O'Leary has kindly offered to take all classes for an introductory yoga session. Yoga classes with Siobhán, will continue for Junior and SeniorInfants and First Class.
Nenagh Olympic Athletic Club
 The children from 4th, 5th and 6th  classes attended Nenagh Olympic's  Indoor Track  before the Mid-term break for an Athletics Event for local  Primary Schools.
Both experienced and not so experienced children were encouraged to take part on the day. It was wonderful to see and hear all our pupils cheer on their fellow teammates during the different events which included , running , long jump and shot put.
Well done to our 5th Class boys relay team – Paul Dwyer, Rory Grace, Jamie Kennedy, Aaron Morgan, Conor Moyles and Paul O'Neill. The boys secured Gold in a particularly gruelling race. A big  thank you to all the parents who came to support us on the day.  We look forward to next year already!
Thanks to Bríd Morgan  for her help with the pre training sessions and for her help and advice on the day.
Cross Country
 The annual Schools County Cross Country competition took place on Wednesday 2nd October. A team of 25 boys and girls from 3rd to 6th class travelled to Thurles to represent our school. Thanks to the combined efforts of everybody we managed to secure the team gold,( 5th & 6th  class boys team) and bronze (3rd & 4th  class boys team).
A special mention for Aaron Morgan , 5th Class who won individual Gold and James Tanner, 4th Class who secured individual Silver on the day.